Dear friends and colleagues,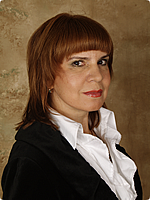 For more than 20 years, I have worked in the field of preventative, restorative, and rehabilitative medicine, pulmonology, and physiotherapy. My scientific and medical work has been devoted to the criteria and methods of early diagnostic of respiratory diseases, the development and implementation of a comprehensive system of preventative and restorative treatment of diseases affecting the respiratory system, and the development of new medical technologies and the evaluation of their effectiveness.
I have designed methods of controlled halotherapy and bio-controlled air ion therapy, which were introduced into medical practice and used effectively by numerous medical institutions. I give lectures to doctors on topical problems of rehabilitation in pulmonology, physiotherapy, aerosol medicine, speleotherapy, halotherapy, air ion therapy, nebulizer therapy, and lectures on controlled respiratory environments. I would like to share my research and practical experiences with my colleagues as well as with all people who care about their health and would like to receive reliable information from experts.
The priorities of my scientific researches and medical practice are the use of natural treatments in modern medicine and rehabilitation. As a pulmonologist and scientist, it is this that I want to draw the attention of the audience to.
Topical Issues
Diseases of the respiratory system are one of the most common illnesses in modern society. The seriousness of respiratory diseases, both in terms of medical and social effects, is extremely high indeed. These include asthma, chronic obstructive pulmonary disease (COPD), bronchitis, pneumonia, bronchiectasis, and cystic fibrosis. Amongst non-communicable diseases, they are one of the leading causes of high numbers of sick days, disabilities, and deaths.
Research and findings from experts suggest that the most significant factor causing the high prevalence of diseases affecting the respiratory system is environmental air pollutants that enter the respiratory tract. Scientific projections suggest that the two leading types of diseases in the 21st century will be caused by allergies and environmental factors. Those will primarily be respiratory diseases.
Recognized achievements in the pharmaceutical industry and drug treatments will not be able to stop the steady growth of the diseases in our civilization. More and more people are becoming aware of the harm being caused to their health by the environment, and are looking for safe and effective methods of protection and improvement. In recent years, and perhaps largely for this reason, people have demanded treatment through safe, non-medicinal means. Medicus curat, natura sanat — A doctor treats, but nature cures.