On June 21-23, 2013 in St. Petersburg (Russia), a scientific-practical conference "Multi-hospital as the basis of modern practical medicine", which was dedicated to the 40th anniversary of the establishment of the Federal State Clinical Hospital № 122 named after L.G. Sokolov of Federal Medical and Biological Agency (FMBA) of Russia. (Program of the Conference

 0.9 MB
)
The Hospital №122 was founded in 1973 by the Federal Medical Biologic Agency at the Ministry of Health and Social Development. Since its establishment, the Hospital №122 has provided exceptional quality health care and treatment to the personnel of assigned enterprises, as well as to privately insured patients.
Over the past decade, Hospital №122 has also developed and maintained working relationships with American and Israeli hospitals, and profiled hospitals of other countries. In structure of the Hospital № 122 there are multi-hospital, ambulance station, clinics for children and adults, women's clinics, health centers of industrial companies and of educational institutions.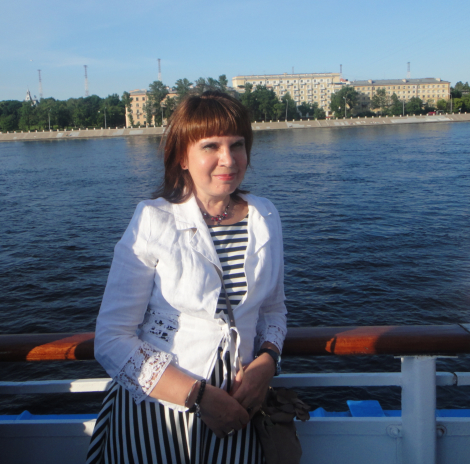 The first day of conference took place in the conference-hall of the Hospital; second and third day – on board of the ship "Vissarion Belinsky" during the cruise from St. Petersburg to the Island of Valaam in Karelia. The conference generated high interest with the medical community in Russia. The conference was attended by representatives of the FMBA's central office, of Russia's leading research institutions, medical centers and industrial enterprises of FMBA from Moscow, St. Petersburg, Saratov, Nizhny Novgorod, Krasnoyarsk, Vladivostok, Novosibirsk. In total, 187 people and 75 organizations attended the conference.
I made a report: Alina V. Chervinskaya. Program for the early detection of respiratory diseases and respiratory rehabilitation "Lung Health".
The report presented results of mass-survey of workers of industrial enterprises belonging to different fields, and having high level of exogenous respiratory risk factors. It described the need for early detection of chronic lung diseases and of professionally conditioned pathology, the need for timely preventive and rehabilitative measures. At the Clinical Hospital №122, we have accumulated extensive experience in the application of non-drug approaches. Controlled halotherapy is used by us as one of the most effective methods for prevention and rehabilitation in the respiratory practice. The method is promising for widespread application within the program "Lung Health".